Setting up your OnePassport system requires you to upload your current staff or people data. Details of the person migrating the data should be provided to the OnePassport Customer Liaison. They will receive an email asking them to log in and change their password.
Important Notes:
Registered OnePassport Account – only registered accounts with Super Admin and Admin roles are permitted to access the file migration location. The authorised person responsible for uploading the data will be added to the system with relevant permissions.

We strongly recommend Comply users use the Two-Factor Authentication from Account Settings to ensure logins are authorised and secured.
Enabling Two-Factor Authentication
Improve the security of your OnePassport account by enabling your Two-Factor Authentication settings. Your account is protected from unauthorised logins.
Click Account Settings from your OnePassport Dashboard.
Under Security Management, click the '"Manage Account'' button.
Tick the box on the Two-Factor Authentication to enable it.
Click "Save".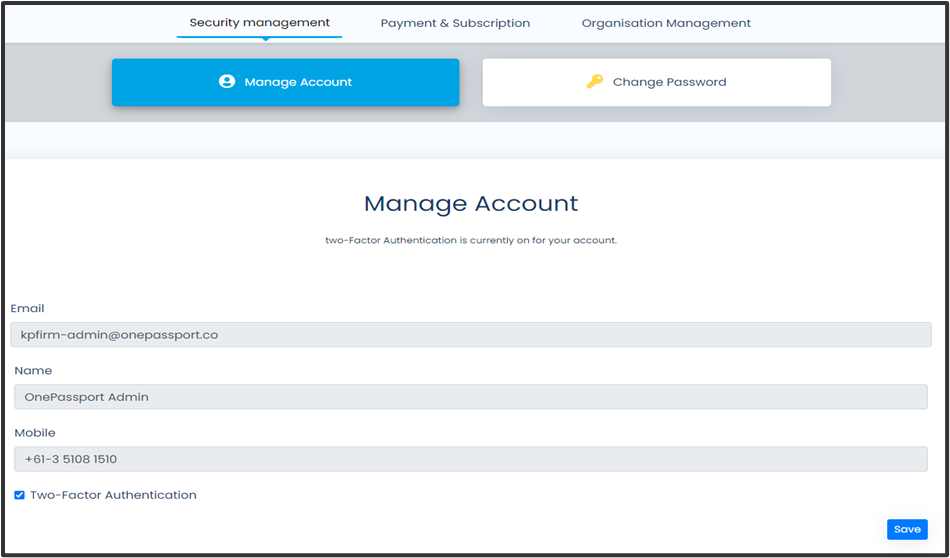 A success message will appear.
Document Upload Process
OnePassport | Immunisation users share data easily with the OnePassport Team via a separate specialised login page. Enter the login details and follow the steps to upload the data.
Step 1: Go to https://accounts.onepassport.co/comply/fileupload.
Enter: Email and Password.

Step 2: Once logged in, the screen will show like below:

Note: **Double check the spreadsheet headings and data formatting to facilitate error free uploads.
Review the questions and check boxes to confirm.
Choose the file to be uploaded and press Upload.
Your file should be transferred from the Upload Files to the Files Section.
*Multiple files are allowed to be uploaded.
* Delete file(s) using the Archive button (blue icon).
Security and Compliance
Document Upload/File Migration functionality within OnePassport employs the same level of security and compliance incorporated across the OnePassport platform. Protecting sensitive information of clients is our core business and extends to our process for data migration. The files are uploaded directly to your organisation's instance. Data is not held within any 3rd party databases.