There could be instances when there are information missed during the bulk upload of vaccination records for your people. You can update these records using the Immunisation Bulk Update feature of the system. This one is a newly added functionality in Onboarding module.
Creating your spreadsheet
Important fields:
1. Email (same email existing in the system)
2. Immunisation ID (every Immunisation record is assigned with a unique number, so we will know the correct immunisation record to update; this information can be found in the Immunisation Register Overview - View as a List page)

You can see Immunisation ID on the first column. Get the correct number for the vaccination type you want to be updated.
* If you have a long list to update, simply download the file by clicking Excel button. Filter the Type based on the specific vaccination type. If you are certain with the Date, you can also filter it.

Fields you can update:
1. Vaccination Type
2. Date Administered/Date Signed
3. Country
4. Status (Valid/Medical Contraindication/Declined)
5. Consent (Yes/No)
6. Evidence (Yes/No)
7. Work Category
8. Dose
*Assuming you want to update your people's immunisation record, specifically on Work Category, you will be needing 3 columns on your excel file: Email, Immunisation ID and Work Category.
Download a sample template at the bottom of this page.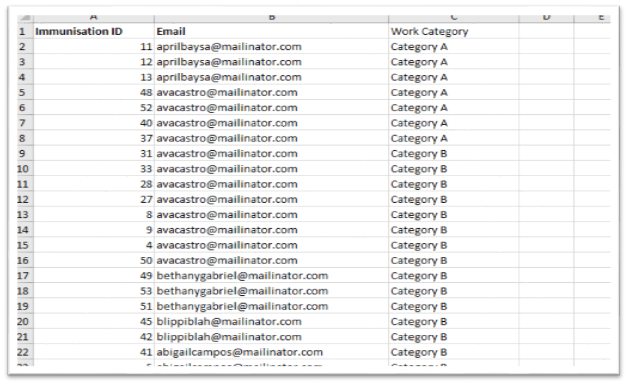 * You can add more columns/fields from the list to update.
Let's start updating the records.
Step 1: Go to Onboarding from your Dashboard.

Step 2: In the Onboarding page, click the plus button.

Step 3: From the tabs on the left, press Immunisation Bulk Update.

Step 4: Upload your file and follow the prompts.
Should there be errors while on the process, the system will pick it up and you can correct the information right there before uploading.