A new worker can submit personal details to the organisation's Comply using the Self-Onboarding feature.
Comply Admins can create and send a unique link (organisation specific) to an individual. This link contains a form that includes an organisation-specific questionnaire. Individuals have to fill it out and when submitted, it saves it into their Comply record.
Below are the steps for the Super Admin/Admin user to generate a self-onboarding form:
Step 1: From Comply Dashboard, click Settings.

Step 2: Click the Employment Self-Service module under Record Set up.

Step 3: Under the Self-Onboarding Forms, click the plus sign (+) to start creating forms.

Step 4: In the drop-down, select Asset then press Add button.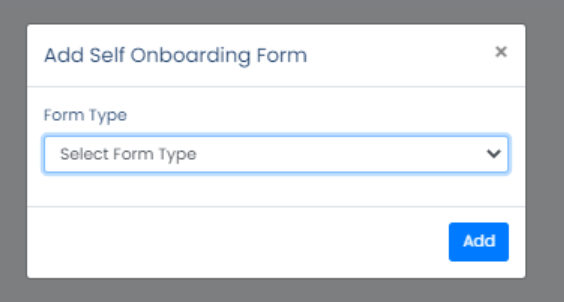 Step 5: The page will open to the Add Asset Form.
Enter the Name for the form and Asset Type (Department/Unit) where you want to save the worker.
With regards to the Asset Fields, on the left side are the required ones in Comply. You cannot edit this section. For the non-required fields, you may tick the fields to make it required for the worker to fill out.
Click Save.

Step 6: Your form will be shown in the Self-Onboarding Forms List. Copy the link and send it to your worker to commence self-onboarding.
Try clicking the link to view the generated form.

* If you wish to edit the form (name, Asset Type or the fields inside it), just press the pen and paper icon on the right side. Pressing the bin icon next to it will remove the form.
Next: Managing the Submitted Self-Onboarding Form