While OnePassport Comply offers a way for customising your forms related to capturing worker details, consent or agreement and immunisation records, the system is letting users to also create a form from scratch using the Form Builder feature.
Your dynamic form can have different field types:
1. Text Field - short/long answer
2. Check boxes - multiple selection
3. Drop down - single selection/multiple selection
4. Radio button - single selection
5. Date Picker
6. File Upload
Note:
* Remember that in all field types, you have the ability to edit or delete labels/options.
* You can make a field required for the worker to fill out.
* You can upload files to the form.
Start building your form now using the steps below:
Step 1: When you click Settings from Dashboard, you will see Employment Self-Service. Click it.

Step 2: Click the plus button under the Self-Onboarding heading to add forms.

Step 3: Select Dynamic in the Form Type drop-down. Click Add.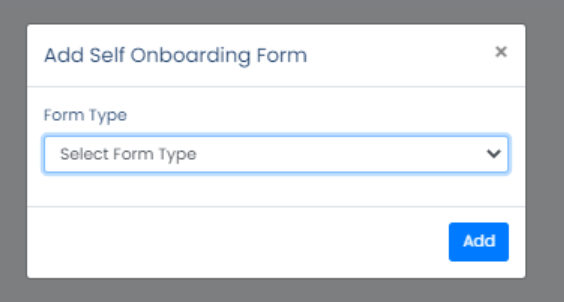 Step 4: Start creating your Dynamic Form.
A. Enter the name for the form.
B. Provide a description (optional).
C. Enter label/question/title of field
D. Select the field type (either text, date, checkbox, file upload, radio button or drop down).
E. Tick Required box if you want the field to be mandatory.
F. Click + sign to add a new field. Repeat steps C to E.
G. Click Preview button to see how your Dynamic forms looks like.
Once satisfied with your dynamic form, click Save.

*If Drop-down, Check box or Radio Button is selected, you will be provided with options to choose from. Below is an example.

Just click the plus button to add an option and x button to remove it.
Delete the entire field through the (-) icon on the top right side.

Step 5: Your form will be shown in the Employment Self-Service Forms List. Copy the link and send it to your worker to commence filling out the Dynamic Form.