Provided here are the instructions to aid the new staff in filling out the form once the link has been sent or shared.
Note:
1. Staff can stop and resume filling out the form until completed.
2. Once submitted, staff cannot edit answers. Should staff wish to change the responses, it is recommended to contact the organisation.
3. Staff will receive an email for the answers provided in the form.
4. Once the form submitted by the staff is accepted by the organisation, you are automatically connected. Staff can log in to OnePassport account and share records.
Watch this video to observe a visual step-by-step guide.
Below are the detailed steps for the staff in answering the form.
Step 1: Upon clicking the form link, staff will be redirected to a page like below.

Step 2: Staff enters details in the fields provided. Then press the Search button.

Step 3: Staff will see a page like this. Click the Proceed button.
Note: There is no error on this page. It is showing "No record found" since you as a staff are not yet in the system.

Step 4: The first form to be filled out is the Asset Form (where you need to enter personal details).

Step 5: Click the Submit button at the bottom once completed.

Step 6: You will land on the next screen.
A. Assuming you do not have a OnePassport account yet
You need to enter and confirm your password at this stage as a new OnePassport account user.
Tick the box: "I accept the license for use of the OnePassport platform as outlined here".
Press the Register button.
Should you wish to update something on your personal details, you can press "Back to Asset Form".

B. Assuming you already have a OnePassport account
At the Register to OnePassport screen, press the Login Instead button. You will be redirected to Login OnePassport screen like below.
Enter your email and password.
Click Log In.

*In case you forgot your password, you can open this one in another tab account.onepassport.co and click Forgot Password. Follow the prompts. Once the password has been set up again, go back to the "Log in to OnePassport" screen and enter your email and password.

Step 7: You will see a pop-up message confirming the successful submission of the form. Click Ok.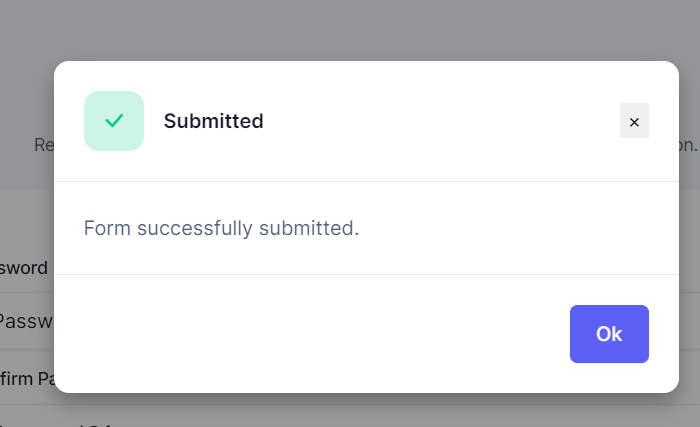 Step 8: You will be redirected to the next form (depending on what has been set up by the organisation). Simply continue filling out the form(s).
When you are done answering and submitting all the forms, you will see a message like this.