Important: Make sure you have completed filling in the details in your immunisation spreadsheet. The sample is given in this picture. The fields in blue shade are the required ones and the rest are optional.

The required fields are: Email, Vaccination Type, Country, Date Administered (or Date Signed for records with Medical Contraindication or Declined Status), Status, Consent and Dose.
1. Email - ensure that the email used is the same as one in the system.
2. Vaccination Type - check for the vaccination labels existing in the system to match the one in your sheet ( see Settings -> Immunisation Settings).
3. Country - required field.
4. Date Administered - date when vaccination was administered (with format dd/mm/yyyy or dd/mmm/yyyy).
5. Status - required field (Valid/Medical Contraindication/Declined).
6. Consent - required field (Yes/No).
7. Dose - Dose 1/Dose 2/Dose 3/Dose 4/Dose 5 (header still required if Serology record is to be uploaded)
Other fields but not mandatory:
1. Provider - where vaccination was administered.
2. Due Date - date when vaccination is due (dd/mm/yyyy or dd/mmm/yyyy).
3. Batch No. - not required here but mandatory when submitting to AIR.
4. Evidence - Yes/No.
5. Notes - any comment or remark.
Here is a sample of a file that you can upload.

Download an Immunisation Bulk Upload template at the bottom of this page.
Bulk Uploading
Step 1: Log in to your account. You will be redirected to the dashboard.

Step 2:
Click on Onboarding from the dashboard or sidebar.

Step 3: Click on Bulk Upload.

Step 4: Look for Immunisation Bulk Upload from the Upload Type dropdown. Select it.

Step 5: Easily upload a file by selecting it or simply drag and drop it into the designated area.

Step 6: Match the Excel headers to the columns. Click the Submit button when done.
 
Step 7: After the system reviews your Excel file, it will display any errors detected will be displayed as follows (highlighted in red).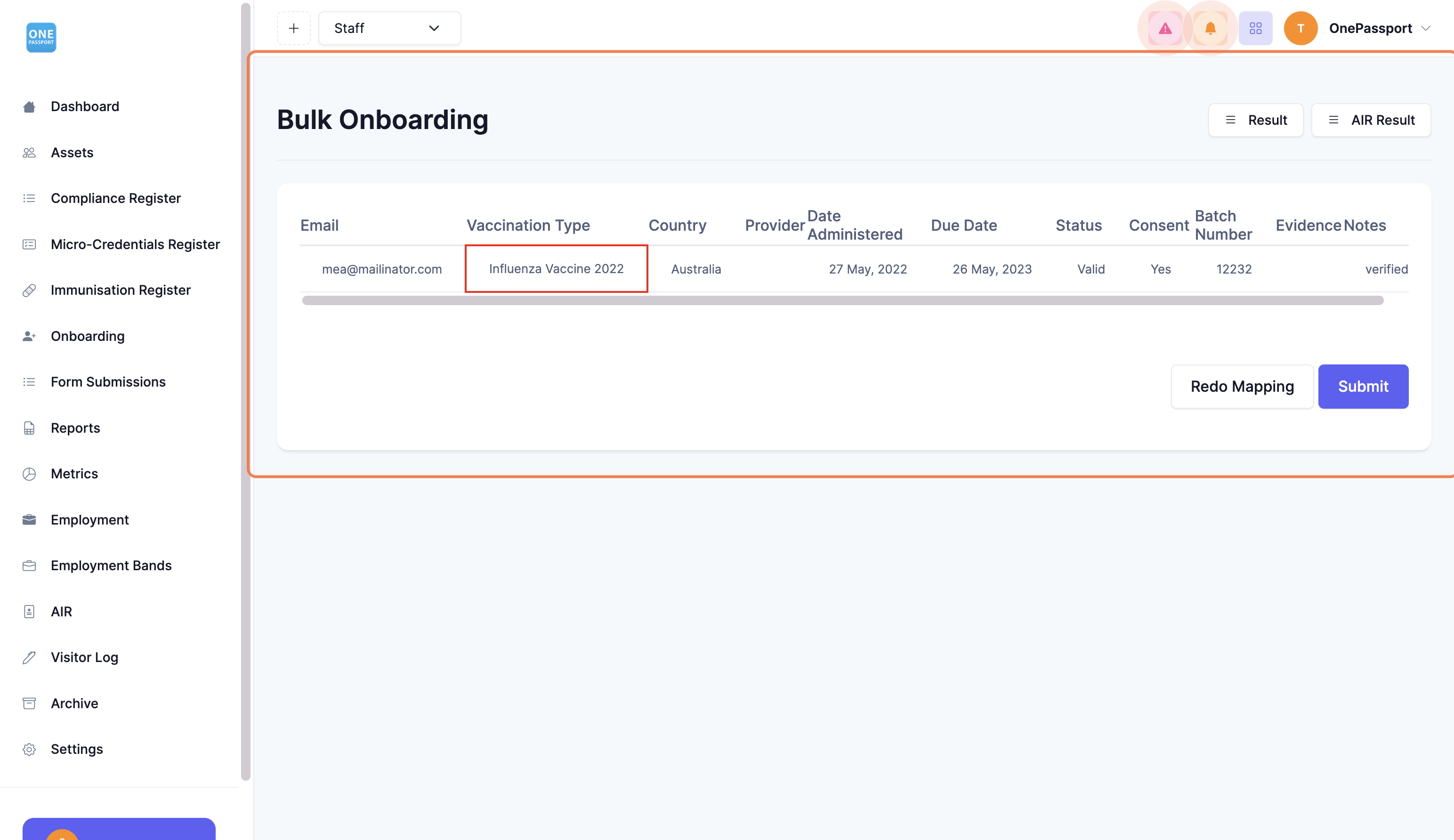 Step 8: When you encounter boxes in red, simply click and update that specific record. After editing the Information just simply click the small check button.
Click on Submit.

Step 9: After Clicking Submit, there's going to be a pop-up Message.
Click on Close.

Step 10: Upon clicking the 'Close' button on the pop-up message, you will seamlessly be redirected to the 'Onboarding Results' page. Here, you can check if the upload is successful or not.

You can watch the video of the process here.
00:00: 00:02: 00:05: 00:08: 00:11: 00:14: 00:17: 00:20: 00:23: 00:26: 00:29: